The five Most Beautiful ecological hotels in the world
Summer is here, and it's time for the holidays. We offer you this slideshow of the five most beautiful hotels on the planet that are also innovative in ecological terms. Don't thank us; we like to make you happy!
Let's be clear right away that an environmentally friendly hotel does not necessarily imply a luxury structure. More and more tourists are opting for hotels that respect waste recycling, follow bio-architectural standards, offer local meals (food produced within a radius of 100 to 250 km maximum), or seek to save energy in every possible way. Here are five, all ideally located, accessible by air, carpooling, boat, etc. and at different budget levels.
If you've ever dreamed of living in a tree-perched cabin, here's a hotel that will enchant you. Probably the most original of ecological hotels, it has only six rooms, all with a view of the river Lule Valley. Different from each other, the rooms are ""attached"" to the trees. To build them, no plants were sacrificed.
According to the configuration, there is no sewer system; the sanitation department has an incinerator that eliminates anything that is spilled, leaving no unpleasant odors.

Paradise Bay Eco Resort, Australia
The quasi-uninhabited island, named after Whitsundays, is located off Queensland, Australia. It is a true uncontaminated paradise, renowned for its particular flora and fauna. The first requirement was to preserve the original nature of the island, which is why several previously transplanted plants and plants were removed.
Also, the materials required for the construction of the hotel have been moved, using light machinery, with extreme delicacy, to reduce soil erosion and preserve the habitat of certain sensitive species. The use of solar energy is maximal, covering 85 % of the hotel's energy needs.
Those who will have the pleasure of staying in this unusual place will be given information about sustainable development, to become aware of its meaning and its value, by showing, for example, the ecological tips put in place by the hotel to save energy that remain hidden in the eyes of tourists.

In the Italian South Tyrol, the Vigilus Mountain Resort
The Vigilus Mountain Resort can only be reached on foot or by cable car. It blends perfectly into the enchanting forest of century-old Larches that surround it, thanks to its wooden facade reminiscent of the bark of trees.
The green roof is entirely covered with grass and contributes to energy conservation; to increase natural lighting, the walls are equipped with large windows; the interior is decorated with larch wood planks and elements such as stones, pebbles, and fabrics made of natural fibers.
There are countless sports activities on offer, including yoga, pilates, and even a spa. Prices for a stay at Vigilus Mountain Resort range from € 230 for a standard room to $ 630 for a suite.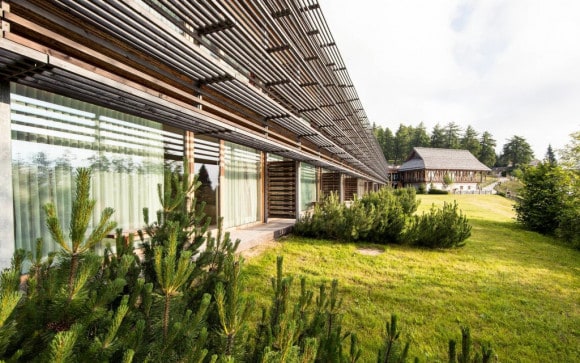 La Grée Des Landes – EcoHotel Spa Yves Rocher – La Gacilly
Situated in the middle of nature, in Brittany, La Grée Des Landes has adopted an irreproachable ethical attitude. Oakwood soils come from sustainably managed forests while bedding is made of organic materials.
The restaurant offers a seasonal menu using herbs and vegetables grown in the hotel's vegetable garden. Even the spa is an ecological refuge offering a range of organic beauty products. For a stay at La Grée Des Landes, different themes are offered with prices ranging from 103 euros to 586 euros per night.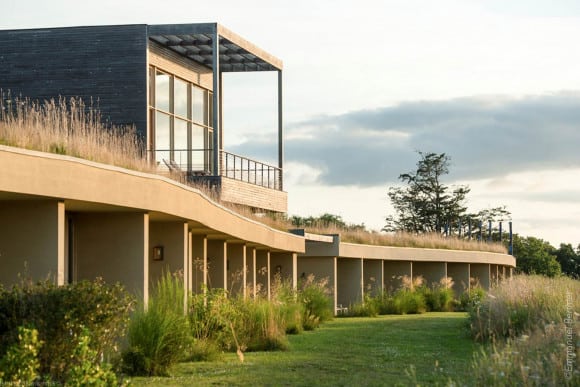 Off the coast of Cairo, Egypt, this is Andrea Amellal.
Made up of 40 rooms resembling sand castles, this hotel in Egypt fits perfectly into the desert landscape of the region, next to Lake Siwa, facing the Sahara desert that threatens. The materials are exclusively natural and imported locally, such as palm leaves braided for roofs or dry stone walls. It was chosen from among the ecological hotels for its design. However, a trip in the desert is ecological only if it is done in respect of the local fragile flora and fauna.
While the hotel uses solar energy, it does not give up candles or oil lamps. You will have a pleasant experience by diving into the pool fed by ancient hot springs, already in use in Roman times. The dinner is a highly romantic moment, between the glittering surrounding stones rich in salt crystals, the flames of candles and the silent stars. The average price is 350 euros for a stay in Adrède Amellal.